Keep Noblesville Beautiful Programs
Daffodil Plantings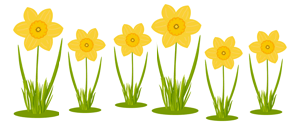 The purpose of the daffodil plantings is, of course, to beautify Noblesville. It is the goal of each daffodil planting to make a spectacular statement, one that captures attention. For this reason, highly visible sites such as our city gateways have been chosen in the first few years of planting.
To date we have improved the gateways at the corner of SR32 & SR37, the I-69 exit west on 146th St., the median of SR 37 north of the city, around the railroad trestle on south 10th St and on SR 38 at Little Chicago Road. The daffodils make a memorable impression to those entering and exiting Noblesville.
Community Beautification
Keep Noblesville Beautiful volunteers work with the community to assist in a variety of community improvement projects.
2016 Community Beautification
2016 Community Beautification at Southside Park
2015 Community Beautification
Tree Planting Project at Noble Crossing School
On October 10, volunteers planted seven hardwood trees, three evergreens and 12 shrubs to beautify the landscape at Noble Crossing School.
Beautification Project at the U.S. Postal Service Office
2014 Community Beautification
Community Beautification - Belfry Theatre
In 2014 1,500 daffodil bulbs were planted by the Belfry Theater, SR 238 and Howe Road. Twenty-two wonderful volunteers helped with the planting and other landscaping work. The work there will continue this spring with the installation of a water garden. The purpose of the daffodil plantings is, of course, to beautify Noblesville.

It is the goal of each daffodil event to make a spectacular statement, one that captures attention. For this reason, we look for site locations which will be most noticed like the historic Belfry Theatre.
Neighborhood Blitz
Since 2008, KNB volunteers have organized a Neighborhood Blitz to provide free gardening, landscaping and maintenance services to Noblesville residents. Our volunteers designate a specific part of the city to assist homeowners (particularly older and disabled residents) by providing education regarding yard care, tree and plant pruning and general home maintenance and beautification.
KNB secures supplies and donations from local business sponsors to help defray costs; sometimes these businesses provide volunteers as well. We enlist the help of various community groups like churches, scouts, sports teams and school organizations, who work alongside the homeowners during the Neighborhood Blitz campaigns.
Litter Clean Up and Prevention
State Road 37 Adopt-a-Highway Clean Up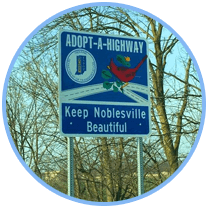 Between April and October, Keep Noblesville Beautiful volunteers work on highway cleanup. If you would like to contribute to this effort please submit our Adopt-a-Highway Volunteer Waiver Form. KNB began its official adoption of a two-mile stretch of Highway 37 in 2010. With the adoption, there is a commitment to clean the two mile stretch of roadway. The Adopt-a-Highway signs, designating KNB as the sponsor, are placed northbound near Hwy. 32 and southbound near 191st Street.
White River Clean Up
KNB participates in the Noblesville River Cleanup which is part of the White River Festival, a project of the Upper White River Watershed Alliance. The Noblesville White River Cleanup has been one of the very largest in the region with tremendous community turnout and public support. During the history of this event, approximately 415 tons of all kinds of trash and debris, almost 3000 tires, and over 25 tons of recyclable materials have been pulled from the White River over the years.
Urban Forestry
Earth Day/Arborfest
Our Arbor Day event is now named Earth Day/ArborFest. Instead of being on the Courthouse Square, it is now located in Forest Park.
KNB has been distributing seedlings (free of charge) to Noblesville Residents since 2009
2009 - 200 Redbud Seedlings
2010 - 200 Shagbark Hickory Seedlings
2011 - 300 Red Oak Seedlings
2012 - 200 Tulip Seedlings
2013 - 200 Dogwood Seedlings
2014 - 400 Dogwood Seedlings
2015 - Tulip Poplar, Redbud, Sugar Maple and White Oak
2016 - Tulip Poplar, Redbud, Sugar Maple and White Oak
Beginning in 2015, Keep Noblesville Beautiful began to host a fun and educational activity for the youth, such as "How to Plant Wildflower Seeds" in a pot which they then decorate. For more information on tree planting care visit the Arbor Day Foundation website
Recycling Programs
Support KNB by recycling paper (newspapers, magazines,shopping catalogs and mail) at a Noblesville Kroger Store!